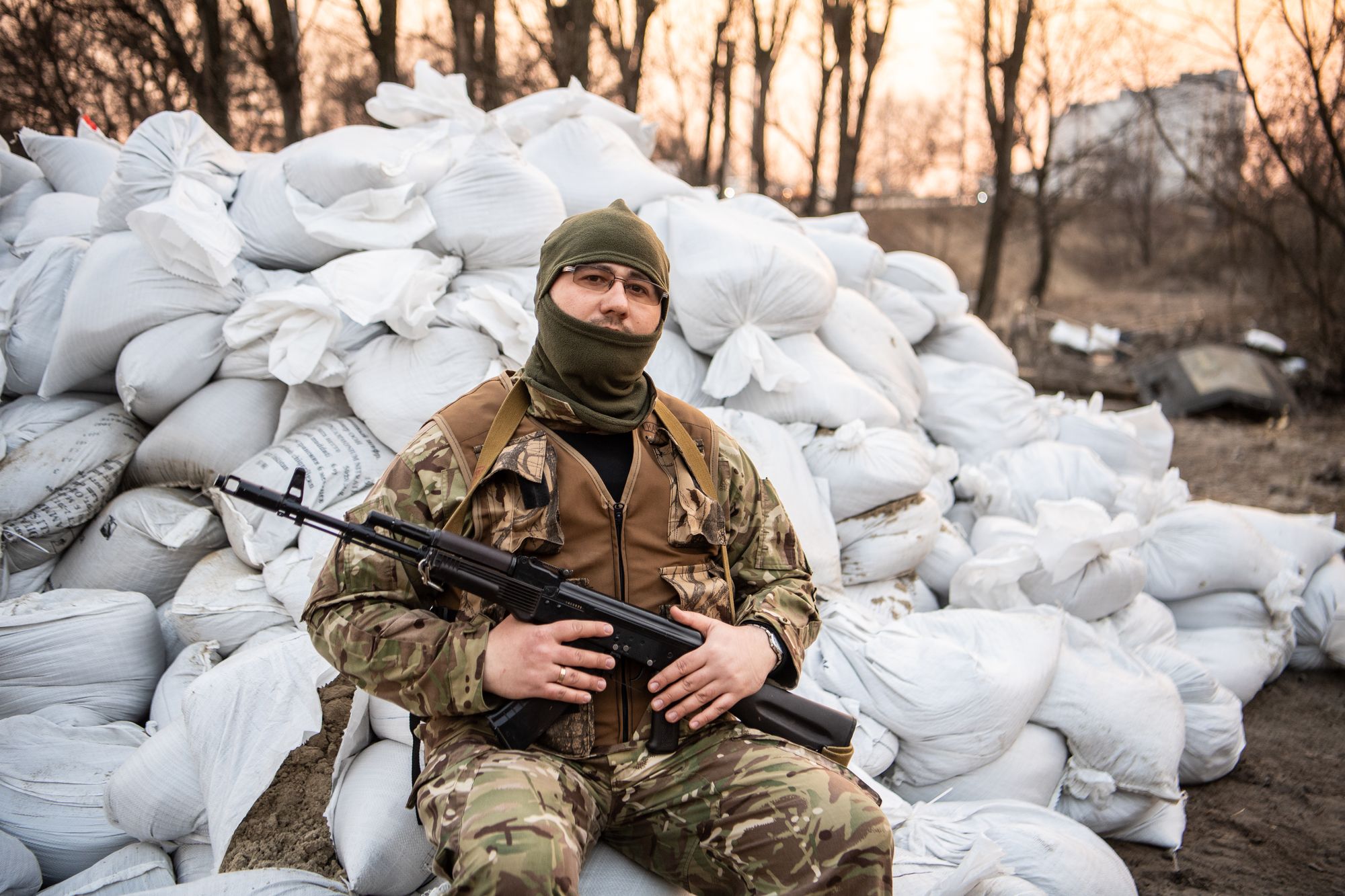 'Resistance: Stories from Ukraine': A New Project Brazen Original
Today, Project Brazen brings you the first two episodes of "Resistance: Stories from Ukraine," a special series chronicling the harrowing experiences of everyday Ukrainians amid the Russian invasion of their country.
Follow the podcast here.
As Ukraine's military has mounted an impressive defense on the frontlines, citizens across the country are picking up whatever weapons they can — smartphones, computers, sewing needles, and guitars. Photojournalist Laurel Chor travels across the country, finding extraordinary stories that go beyond the headlines.
Here's  snippet from the second episode, titled "There's a Weapon in Your Pocket," edited for space and clarity:
Laurel: So far, there have been a lot fewer Russian attacks in the West of the country, and many have fled here in search of relative safety. It's also made the city a favorite staging-ground for the country's hackers.
I meet one of them, Yaroslav, outside his dorm at a local university, where he's in his second year. Yaroslav is one of the founders of a 70,000-strong community of amateur hackers who have been waging a digital war against Russia.
Yaroslav: One of the saddest days was when on the fourth, fifth day, you start scrolling your Instagram or Facebook. And there are a lot of people  like friends of yours who are sharing pictures of their friends dying in this war. And that's how everyone understands.
Laurel: Yaroslav runs a company making chatbots for small business's Instagram stores. But when the invasion started, he found a different use for his servers – and his skills.
Yaroslav: Since the war came, one of our lecturers said that you see, now you have to stop just learning some basics, some theoretical stuff. Let's use them in practice.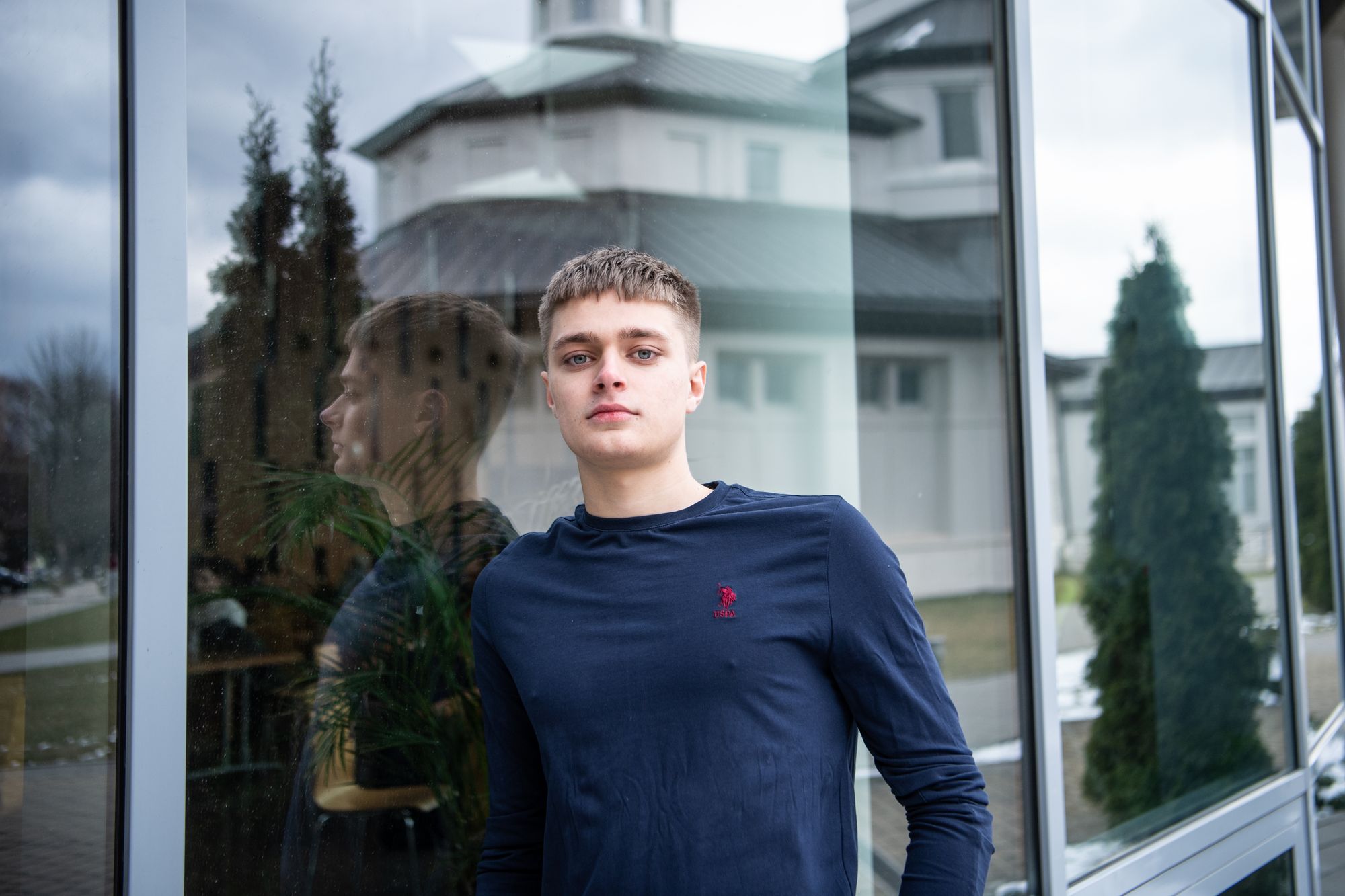 Laurel: Yaroslav is part of a group that uses DDOS, or "Distributed Denial of Service," (DDOS) attacks. A DDOS attack works by flooding websites with extreme  levels of traffic — in this case fueled by the tens of thousands of members who follow simple instructions on Telegram, a popular messaging app. This causes the sites to crash. Yaroslav tells me his team has targeted Russian banks, and companies that refuse to cut ties with Russia, making life for everyday Russians just a bit more difficult. They call the group: "DDOS Against the Country of Occupiers." Yaroslav's goal is to make individual Russians feel real consequences for the war – and maybe, demand change in their country.
Yaroslav: Like, they have to spend their money on something else than war. We need to be kind of brutal in this way. The most peaceful ending of this war is to kick Putin's regime out. And the most peaceful decision would be for Russians to do it themselves. ... But still now they are supporting him.
Laurel: How many websites do you think your group has been able to take down?
Yaroslav: Oh, I think a lot. But now we've got coordinations from cyber police. So like, it's kind of legal. It's legal because we are in war.
Laurel: So the government made this legal.
Yaroslav: Yeah, sure. In normal times, that wouldn't be legal for sure. Like, it's not okay to break someone's site that was making money even in another country. Yeah, but, like, in this way, It's fine. Yeah.
And one more snippet from our first episode, "I am a Soldier Now":
Laurel: Our first stop was a farm outside Borodyanka, a commuter town northwest of Kyiv  heavily damaged by shelling. Just a 10-minute drive from the utter destruction of the town, we found peace and quiet in the countryside. There, we met a war veteran named Vladimir.
In peacetime, Vladimir teaches PE. In wartime, he's a soldier. When Pro-Russian separatists seized the eastern region of Donbas in 2014, he and his cousin joined a volunteer brigade made up of ultra-nationalists called the Azov Battalion. It's a controversial group that's promoted far-right ideology and has been accused of war crimes, but in Ukraine, they're also known as fierce fighters and defenders of the country.
About a year after joining the fight, Vladimir came back with shrapnel in his leg. His cousin didn't make it. Like many combat veterans, Vladimir carries the psychological trauma of war. He found that spending time in nature and riding horses helped him to heal. And he wanted to help others do the same. So he bought some land and built a farm with his own two hands, where children, veterans, and their families could recover and find peace. A sanctuary. He called it Sunny Valley. But in 2022, the war came to his farm.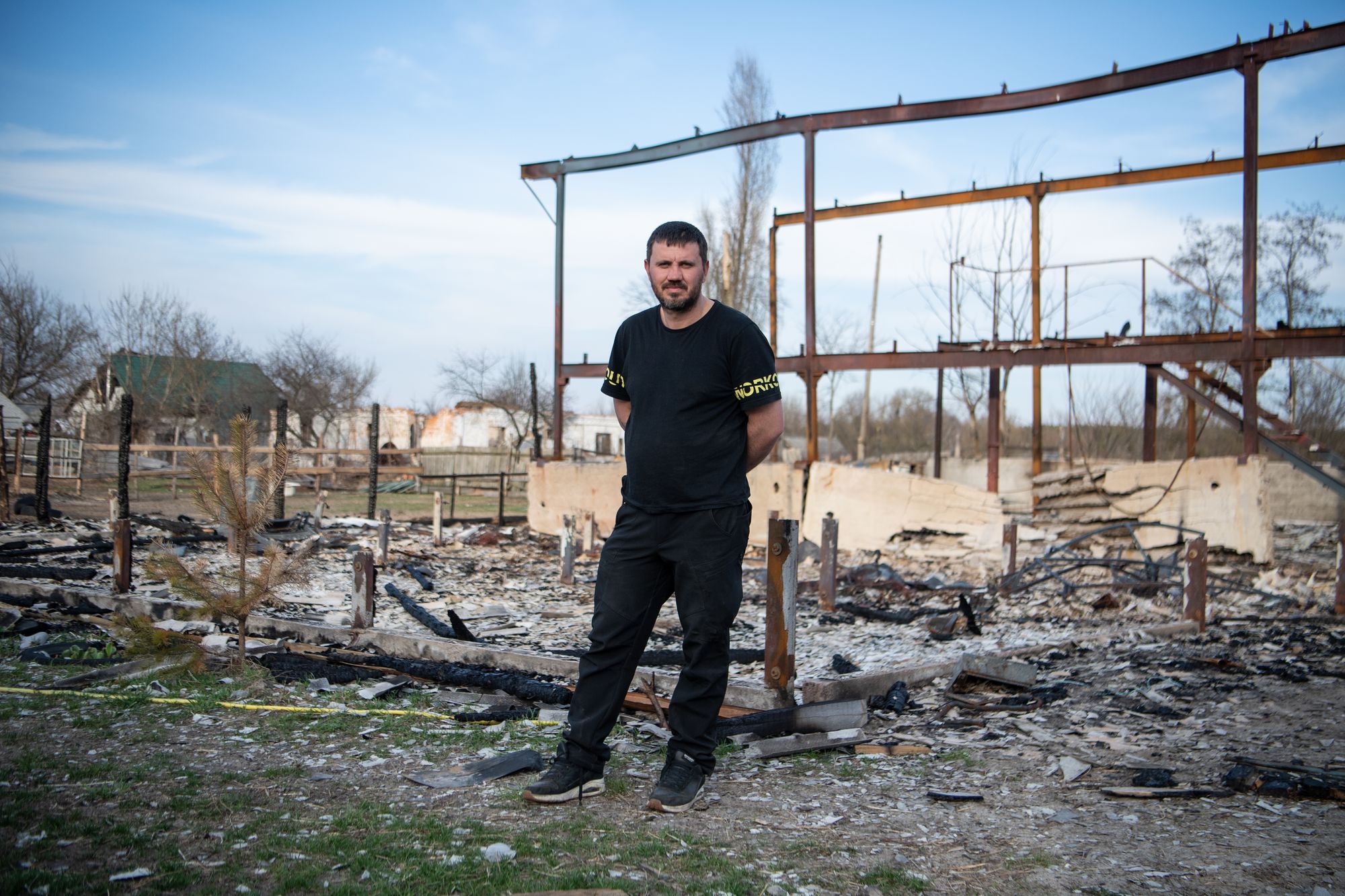 On the first day of the invasion, Vladimir once again donned his military uniform. This time, he was defending his home city. While he was fighting at the frontlines, the Russians came to his farm, and destroyed it. All that's left of his two-story barn is a skeletal frame. There are shell casings everywhere on the ground, scorched wood, scraps of metal, and animal carcasses.
Laurel: When we visited him, in early April, Borodyanka had just been liberated. The town of just 15,000 people lay in ruins. Several apartment buildings had been shelled so badly they had collapsed altogether.
Laurel: Did the Russian soldiers shoot your dog?
Vladimir: Yeah, yes, yes.
Laurel: Were they trying to shoot it?
Vladimir: Da, da ... They shoot a lot of horses. They shoot a lot of animals which were here, they do all this because [I] was in … Azov, and the main target was to destroy everything they see in this piece of land because they know that [I live] here.
Laurel: When Vladimir's neighbors told him what happened, he didn't believe it at first. He was at the hospital at the time, getting treated for his injuries. Vladimir doesn't know what happened to all of his horses. Some had escaped in the midst of the chaos. Others were later found dead. The charred remains of a donkey are still on the ground, left to decay.
Vladimir is still looking for the rest of his horses. His wife, who's fled Ukraine, loves horses. One they did find alive is Tarzan, a 25-year-old horse from Mariupol. When we meet him, Tarzan is badly injured and trembling from the pain. An equine vet named Zhenya is tending to his wounds in a dark, empty stable.
Zhenya: Three injuries from … two from bullets, and one I'm not sure what.
Laurel: Have you operated on a lot of animals that have been hurt and I mean, I mean that have been hurt in the war?
Zhenya: Yes. Unfortunately, yes. A lot of us work with small animals like dogs and cats. But we have a lot of injured horses so I have to operate every day.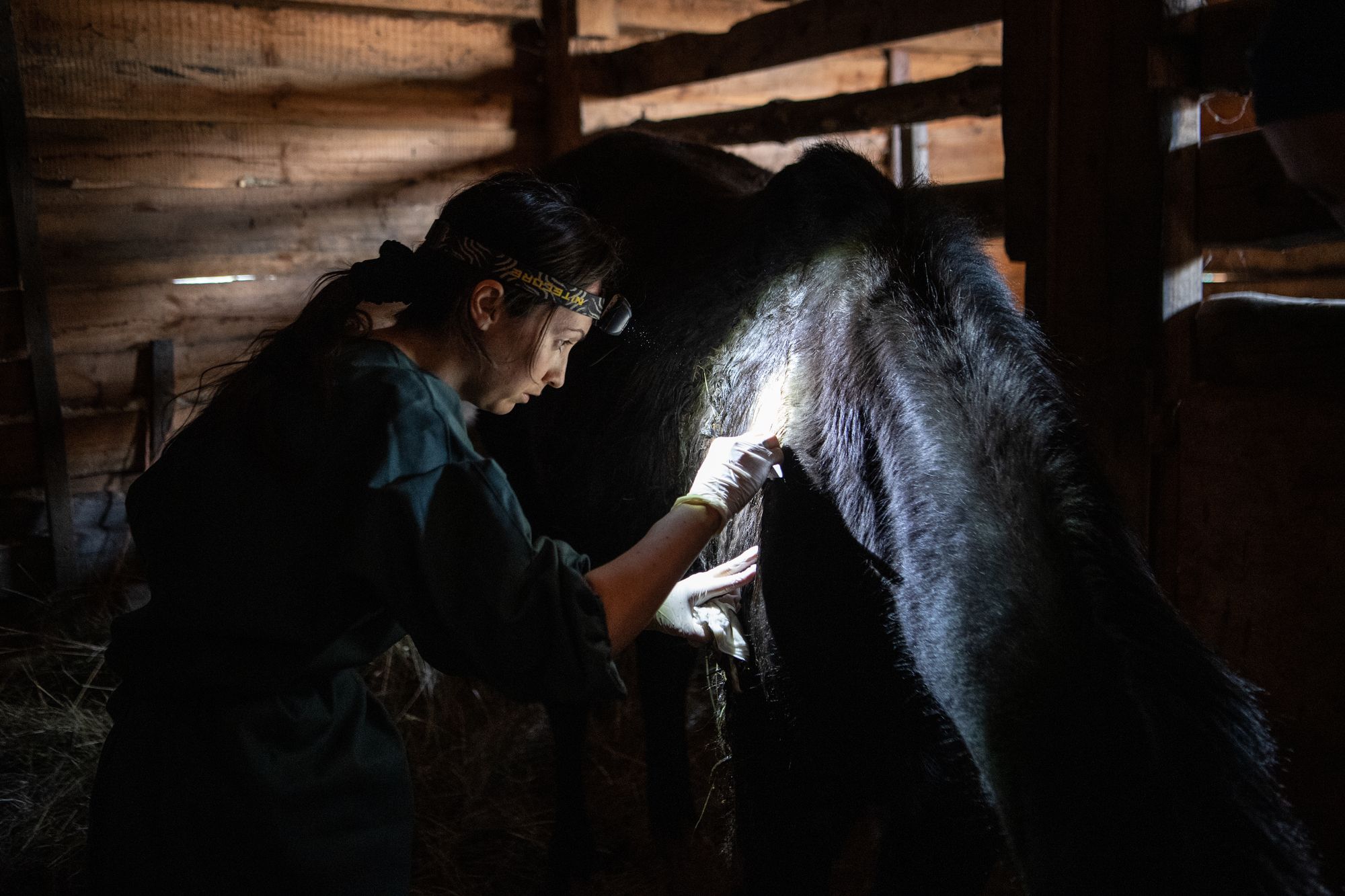 Laurel: We hear Zhenya using her scalpel to shave off a patch of Tarzan's coat around his wound. Vladimir is watching from the side, a pained look on his face.
Zhenya: I hope the scapula was not injured. We have to open and see.
Laurel: If his scapula was hit, Tarzan would have to be put down. A shattered shoulder bone can't support a 400-kilo horse. Gunshot wounds are not exactly something Zhenya is used to treating.
Zhenya: Usually I do an orthopedic examination or something with the teeth or something with vaccinations ... our life was changed.
Laurel: But she's used to this kind of work now. Since the war broke out, veterinarians like her have been busy treating animals with bullet or shrapnel wounds, or who have been traumatized by the fighting.
I've never been to a country that loves animals as much as Ukraine. I've met people who fled with their pet rats, chinchillas, even snails. When soldiers deliver aid to liberated towns, they make sure to bring cat and dog food. So there is a certain cruelty to what the Russian soldiers did to Vladimir, the way they slaughtered his animals in cold blood.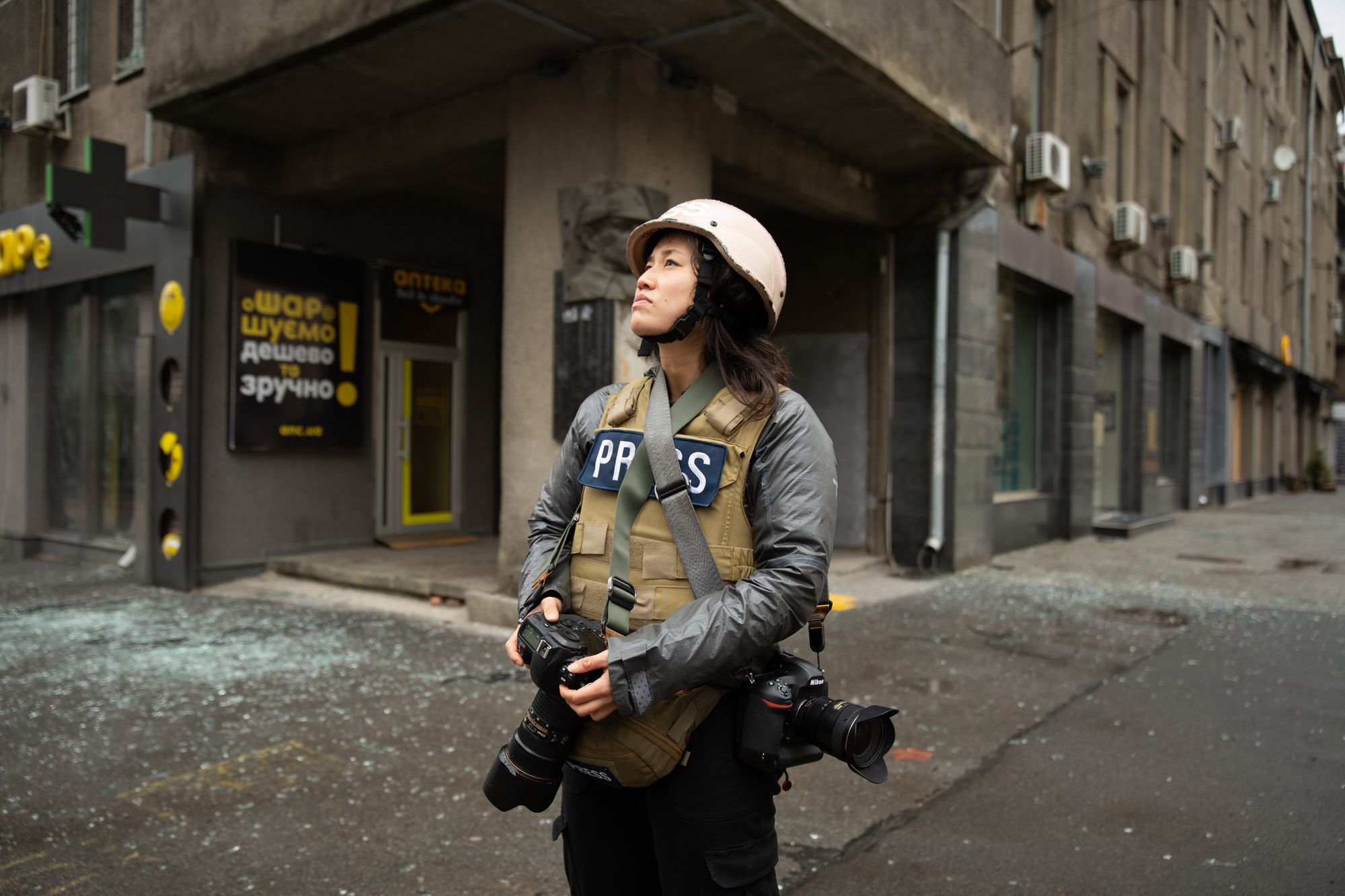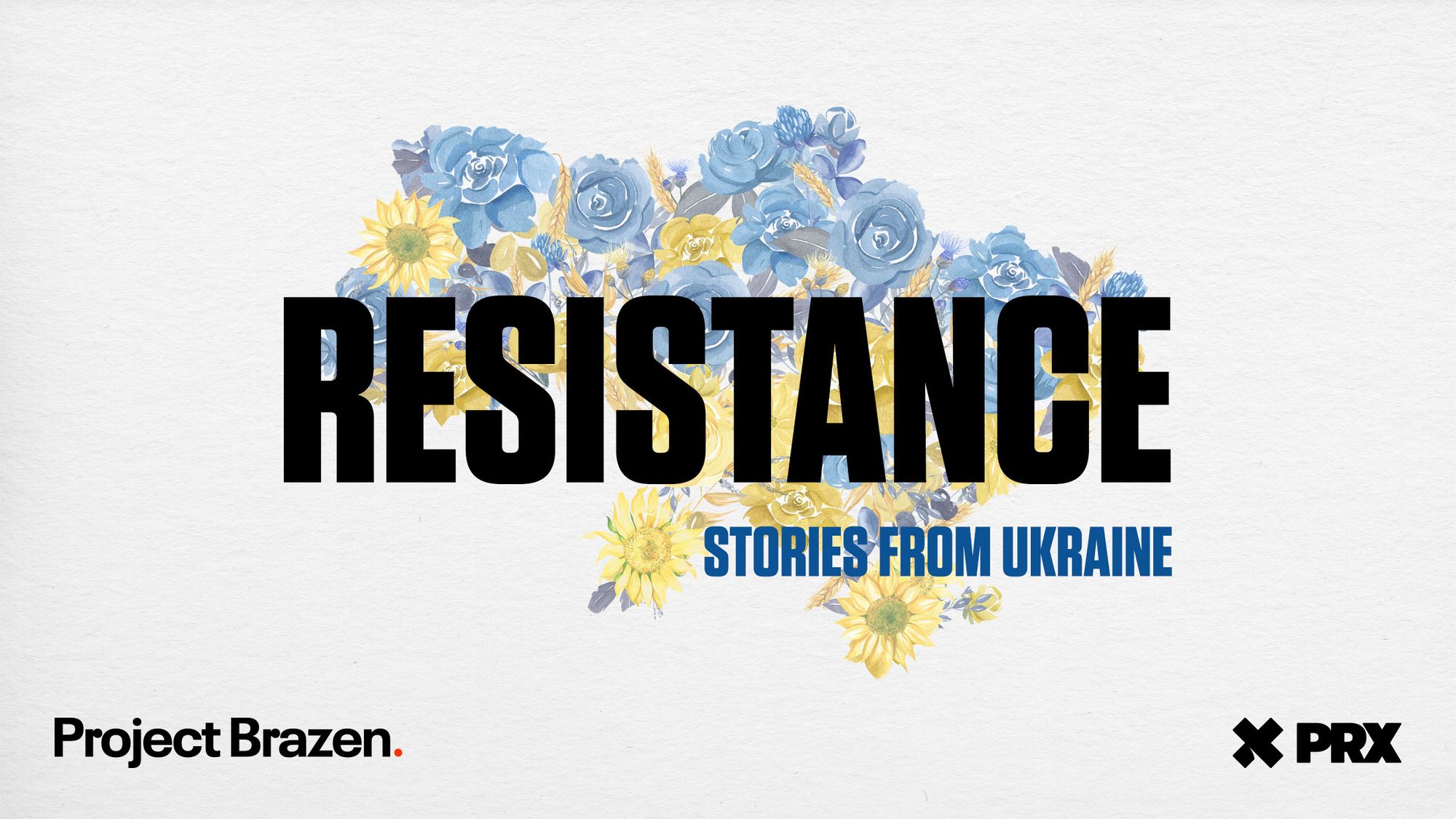 💡
This is the
thirty-fourth
edition of
WHALE HUNTING
, a newsletter delving into the secret worlds of money and power that
we
became obsessed with during our multi-year investigation into the globe-sprawling 1MDB scandal. That project changed our entire worldview. We wrote a
book
about it. We were long-time reporters for the
Wall Street Journal
before setting off on our own last year to create
Project Brazen
, a journalism studio and production company. We're creating books, podcasts and documentaries, and we'll share behind-the-scenes insights into the characters and stories we find along the way.
Get in touch with us: bradley@projectbrazen.com and tom@projectbrazen.com
You can also follow Whale Hunting on Twitter.
Join our Discord server to chat about Whale Hunting scoops, get behind-the-scenes insight into projects like Fat Leonard and join the hunt for Jho Low – we'll post clues as they come to us.
If you like what we're doing, please consider changing your subscription to a paid one. Your donations help us spend more time on the newsletter.
Join the newsletter to receive the latest updates in your inbox.