After global law enforcement started chasing Jho Low and his stolen billions, he came up with an elaborate new money laundering venture via Kuwait, according to new court documents.
Welcome to Whale Hunting, a weekly newsletter delving into the hidden worlds of wealth and power from the team at Project Brazen. Catch up on all Project Brazen's work here, including Spy Valley (Tribeca Film Festival "Official Selection 2023"), our Gateway podcast about Europe's drug wars and The Closer, all about how deals change the world.
As any student of 1MDB knows, it's a twisting tale with many unanswered questions. A court filing in Kuwait, obtained by Whale Hunting and translated into English, is providing some extraordinary new details. – Bradley
By Clara Preve-Durrieu
Corrupt investment projects within China's Belt and Road infrastructure program. Fictitious agreements, multiple offshore bank accounts shuffling billions of dollars, and a Middle Eastern royal acting as a middle man in all kinds of shady dealings.
Recent Kuwaiti court documents are shedding light on how Jho Low, the mastermind behind the 1MDB scandal, used all of these tools to divert funds from massive infrastructure projects to cover up his original multi-billion dollar theft and conceal his ties to the cover-up. Much of the new information pertains to the cover-up after the fraud. The book Billion Dollar Whale explores more specifically the fraud itself from 2009-2015. But a lot of crazy things happened after that – and they're still happening.
By 2016, Malaysia's former prime minister, Najib Razak, was under pressure to pay off interest payments on the $13 billion borrowed by 1MDB from lenders. Most of the money had already been frittered away or stolen by Jho and his conspirators, including Najib. Yet, Najib was telling the Malaysian public that there had been no scandal and everything was fine. To make that true, he needed money – a lot of it.
Jho, who was hiding in China to avoid the long arm of the U.S. Department of Justice, came up with a complicated and ingenious high-stakes gamble. Malaysia would bow to China on key regional strategic issues, including about the South China Sea, and sign huge multi-billion infrastructure deals with China-owned companies in exchange for some of the funds to be diverted via Kuwait to help Najib and Jho cover up the 1MDB fraud. Najib was all too willing because it could help him stay in power and Jho was desperate to get the DOJ to drop their investigation. What's more, some of the funds could even be used for his re-election campaign.
Using multiple bank accounts across various countries, including Kuwait, Malaysia, China, and the UK, and aided by leaders like Kuwait's prime minister, Jho Low funneled money from these infrastructure ventures – a $2.5 billion gas pipeline and a $16 billion railway – to offset the 1MDB debt.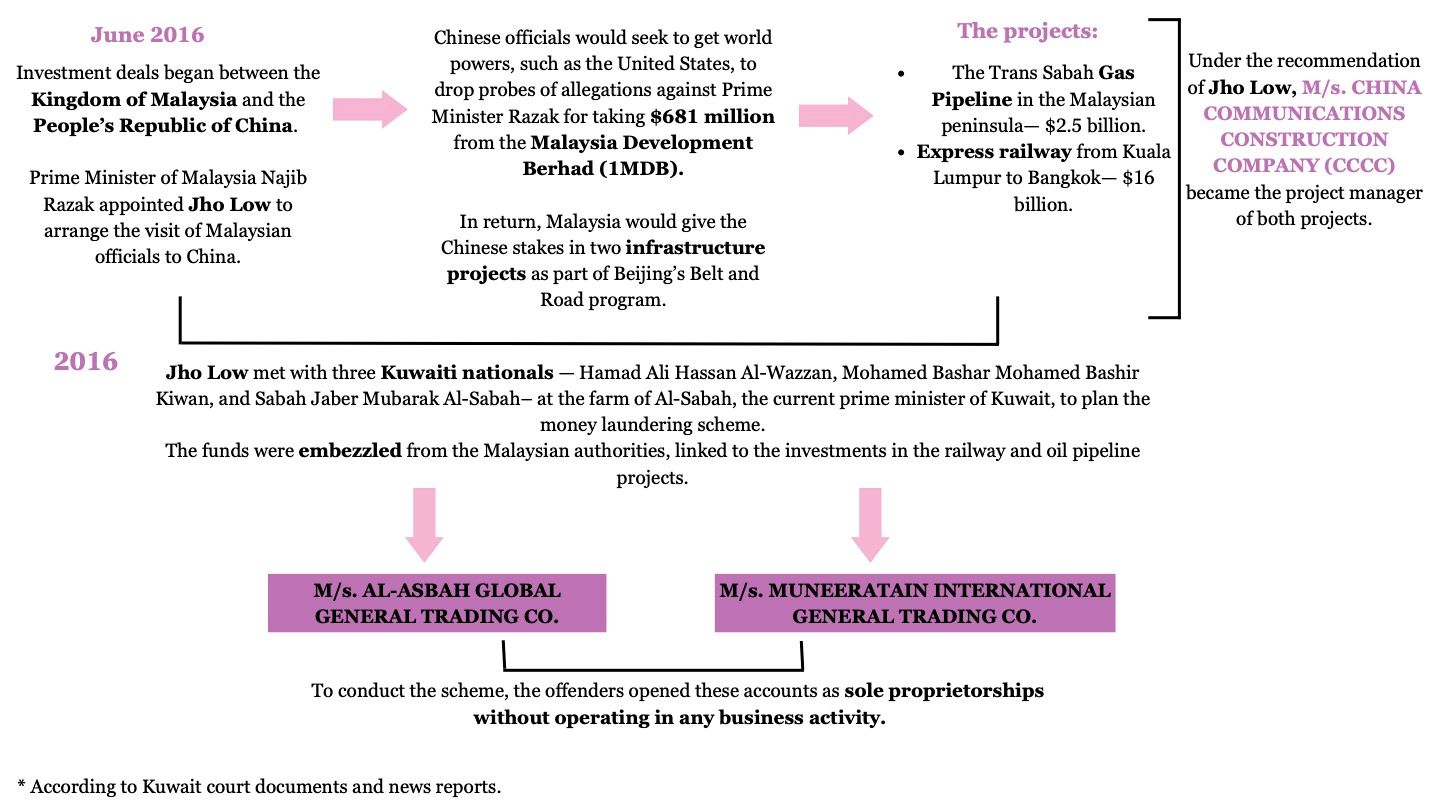 Four more charts & details after the jump ...
This post is for subscribers only
Sign up now to read the post and get access to the full library of posts for subscribers only.
Already have an account?
Sign in